Membership Benefits
MedicAlert™ is the right choice to protect your health, life, privacy, and peace of mind.
Instant Identification
We immediately identify you to emergency responders when they call, via the personal ID number shown on your emblem and card.
Protection
We help train emergency responders, so they recognize your MedicAlert™ Emblem, respect what it says, and call us for information that could save your life.
Privacy
We respect the confidentiality of your medical and personal information. We will never give, rent or sell it to other companies or organizations.
Peace of Mind
We call your family contacts, so you're not alone in a medical emergency.
Trust MedicAlert™ to speak for you in a medical emergency, when you cannot speak for yourself.
Become a Member
All New Members need to have their medical conditions certified by a medical practitioner, pharmacist or optician. Please download and print out the form below.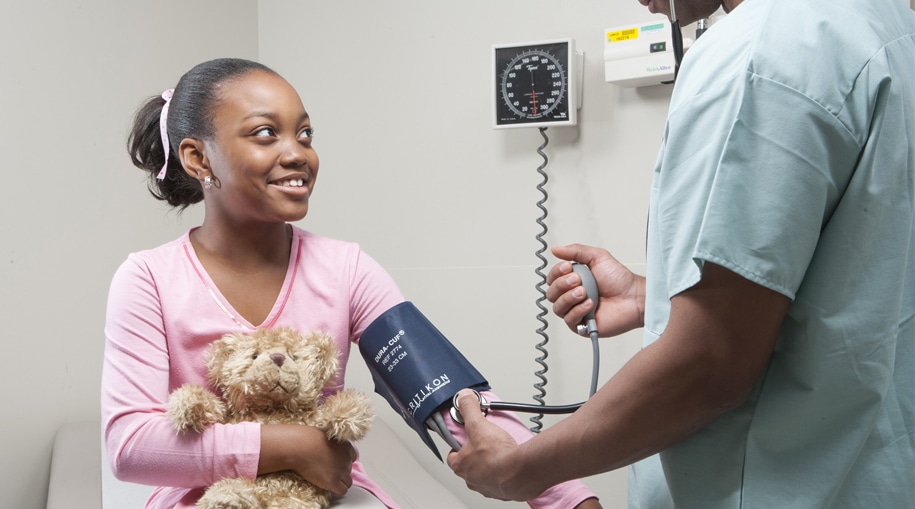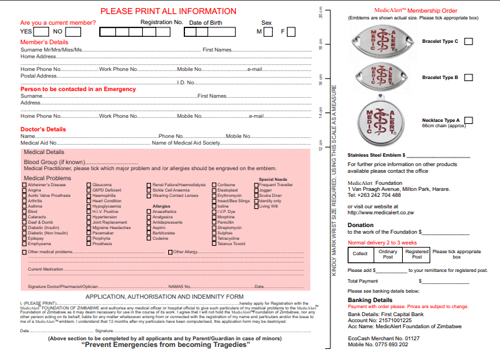 My daughter Nicole visited a family friend during the April school holidays. While she was there she developed an acute respiratory infection. The family friend had some medication at home. They were about to give her some cotrimoxazole when she told them to check her MedicAlert™ bracelet. Fortunately they realised she was allergic to the medication they were about to give her. They called me for further help with her condition. The emblem is vital in times of crisis.

My emblem is of great assistance in the sense that each time I visit the clinic when they see it they give me the right medication without any questions. I found it extremely important when I had malaria. The nurses were able to read the information on my emblem and treat me accordingly.

My emblem has been of assistance. I was ill and when I got to the hospital I could not tell the nurse what was wrong. She read the information on the emblem and when I woke up the next morning I asked her how she knew what to give me. She reminded me I was wearing the emblem.
Frequently Asked Questions
Why should I join MedicAlert™ Foundation?
If you have any medical condition that may put you at risk in an emergency, then you need a MedicAlert™ medical ID. The MedicAlert™ medical ID ensures that emergency service & healthcare personnel can immediately access the right information to assist in providing prompt, precise diagnosis and medical treatment.
How does MedicAlert™ membership work?
MedicAlert™ members wear a medical ID around their neck or on the wrist that is custom-engraved with their key medical condition(s) or vital details, membership number as well as the 24/7 hotline telephone number for emergency services and healthcare professionals to call for more information if required.
In an emergency, ambulance paramedics and healthcare professionals are trained to look for the MedicAlert™ emblem and the information it holds. If needed, they can call the 24/7 support hotline for further important medical and personal details held on our secure national database – from anywhere in the world.
How is MedicAlert™ different from other medical ID jewelry?
The engraving space on any bracelet or pendant is limited and cannot fully communicate all the vital facts regarding your medical conditions and emergency contacts. Through membership in MedicAlert™, vital medical information, including your current medications, dosages, and emergency contact phone numbers are included in your electronic health record residing in a secure and confidential database. In an emergency, this data is accessible to paramedics, and other emergency and health professionals through our 24-Hour Emergency Hotline. This information is also available to you, 24/7, for updates on your medications, dosages, and contacts.
We provide your emergency medical information only to authorized medical professionals. MedicAlert™ Foundation protects the privacy and confidentiality of our members by never releasing information to unauthorized personnel or organizations.